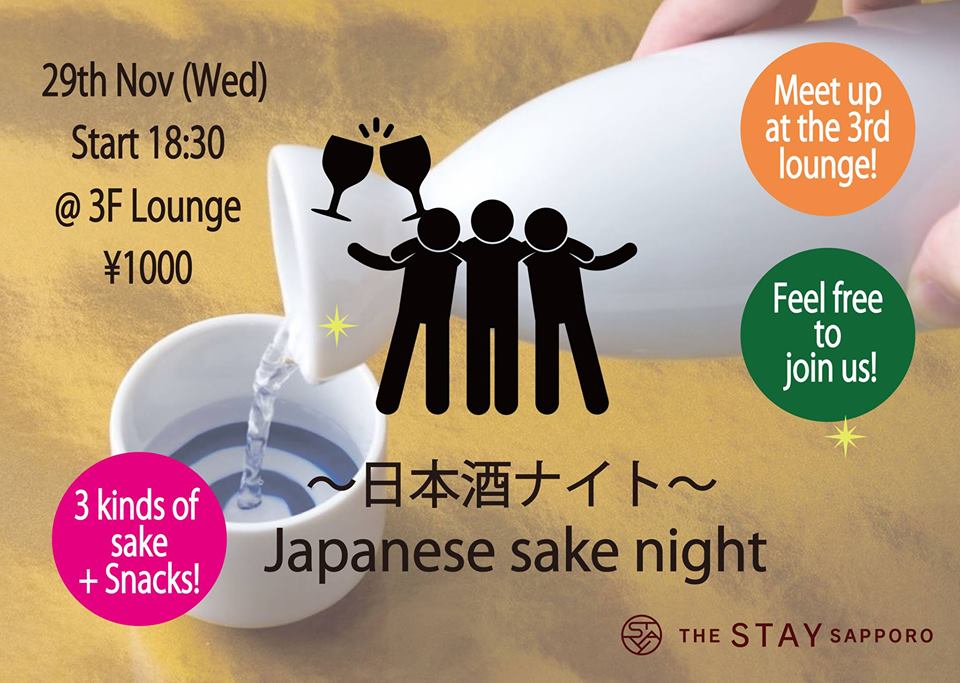 ◆◆ 〜日本酒ナイト〜 Japanese sake night ◆◆
もう寒いですね。
そんなときには日本酒を。
ステイのラウンジで気軽に嗜みませんか。
日本酒がお好きな方はもちろん、挑戦したい!という方も大歓迎!
3種類の北海道産の日本酒と軽いおつまみをご用意。
仕事帰りに。買い物帰りに。寄っていきませんか?
みなさんのご参加お待ちしております^^
Hi guys!!!!!!!!!!!!
It's getting colder and colder in Hokkaido…
Drink Japanese sake and it makes you warm and happy!
Why don't you try Japanese sake with us in the stay lounge? 🙂
<If you…>
Like Sake? >>>>>> MUST COME!
Never tried? >>>>> MUST COME!
This is the season to have good SAKE in Hokkaido!
There are many sake brewery in Hokkaido, we will prepare 3 kinds of it with snacks.
Please feel free to join us to have fun!
Date: 29th November (WED)
Time: 18:30-21:00
Cost: 1000円 yen
3種類の日本酒 + おつまみ!3 kinds of sake + Snacks!
Organiser: Hoyong
宿泊者の方以外でもご参加可能です!!!!!
Everyone can join our event !!!!!
누구든 참여 가능한 이벤트 입니다 !!!!!
◆◆ November event schedule ◆◆
12日 Chit Chat Stay vol.44 ~鍋~
14日 ランニング Running Ⅲ
15日 日本酒ナイト Japanese sake night♫
20日 The Stayバーホッピング7 BAR Hopping event Ⅶ
29日 日本酒ナイト Japanese sake night♫
2017年12月03日