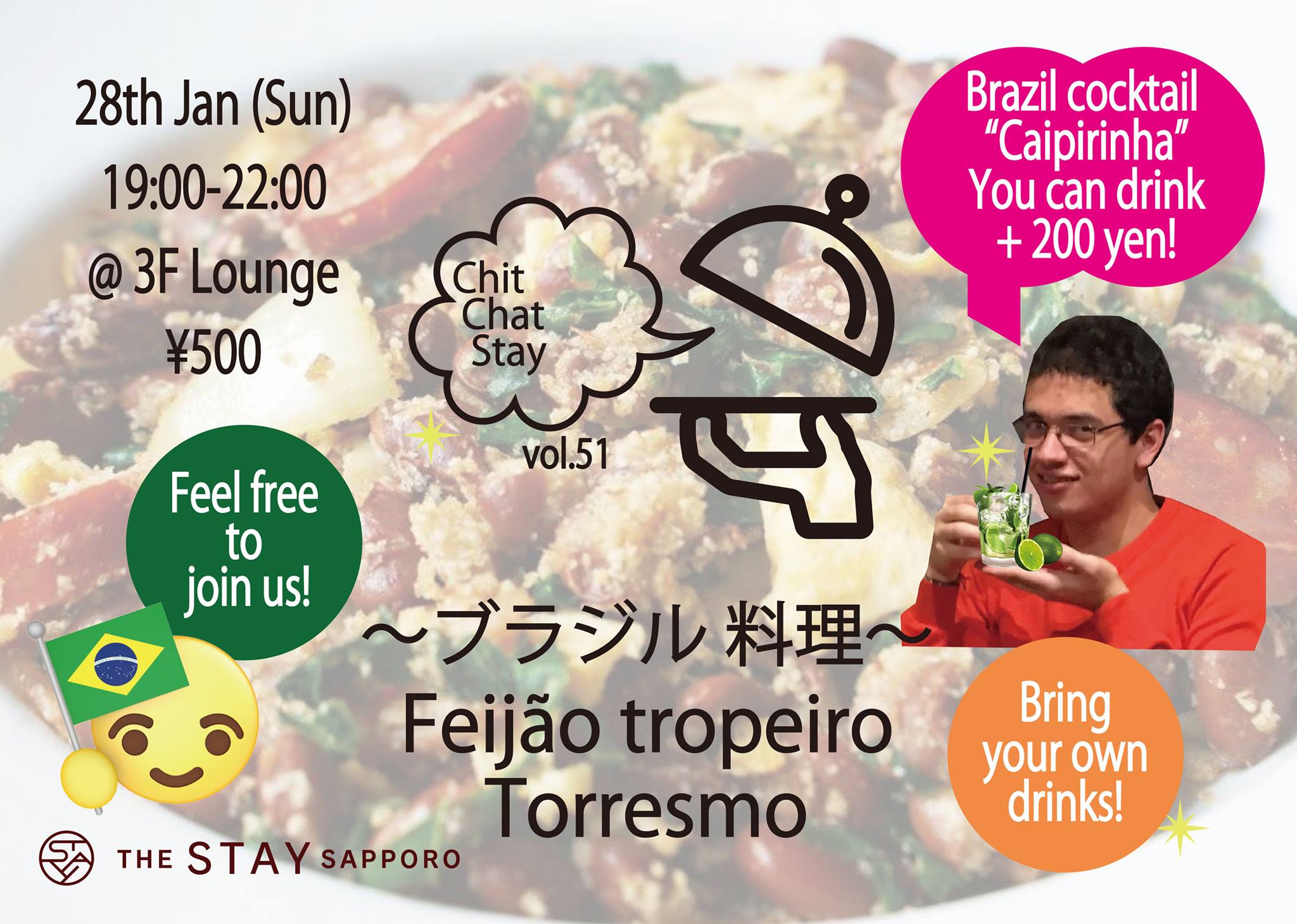 ◆◆ Chit Chat Stay vol.51 ~ブラジル料理~ ◆◆
Feijão tropeiro (豆たまごベーコンのかき回し)
Caipirinha (カシャッサの大人気甘いドリンク)
彼の故郷であるミナスジェライス州の伝統的な料理だそうですよ~🤗
◆◆ Chit Chat Stay vol.51 ~Brazil food~ ◆◆
The organiser is our new staff, Fernando!
He will make Brazilian cuisine and it is traditional food in his hometown😍
Feijão tropeiro : It's a dish made with pinto beans, bacon or pork belly, fried eggs, welsh onions and manioc (cassava) flour.
Torresmo : this is the Brazilian version of pork scratchings. With some salt and drops of lemon
Caipirinha : made with cachaça (a spirit made from sugar cane), sugar, lemon juice and ice.
We are warmly welcoming you!!!!!! Feel free to join us❤️
Entry fee: 500 yen (Bring your own drinks🍺)
*Everyone can join our event !!!!!
*누구든 참여 가능한 이벤트 입니다 !!!!!
◆◆ January event schedule ◆◆
1日 Chit Chat Stay vol.48 ~手巻き寿司~ 🍣
6日 日本酒ナイト Japanese sake night 🍶
12日 Chit Chat Stay vol.49
19日 Chit Chat Stay vol.50 ! ~香港家庭料理~ 🇭🇰
25日 日本酒ナイト Japanese sake night vol.5 🍶
28日 Chit Chat Stay vol.51 ~ブラジル料理~ 🇧🇷
◆◆ February event schedule ◆◆
3日 Chit Chat Stay vol.52 ~節分~
2018年01月22日