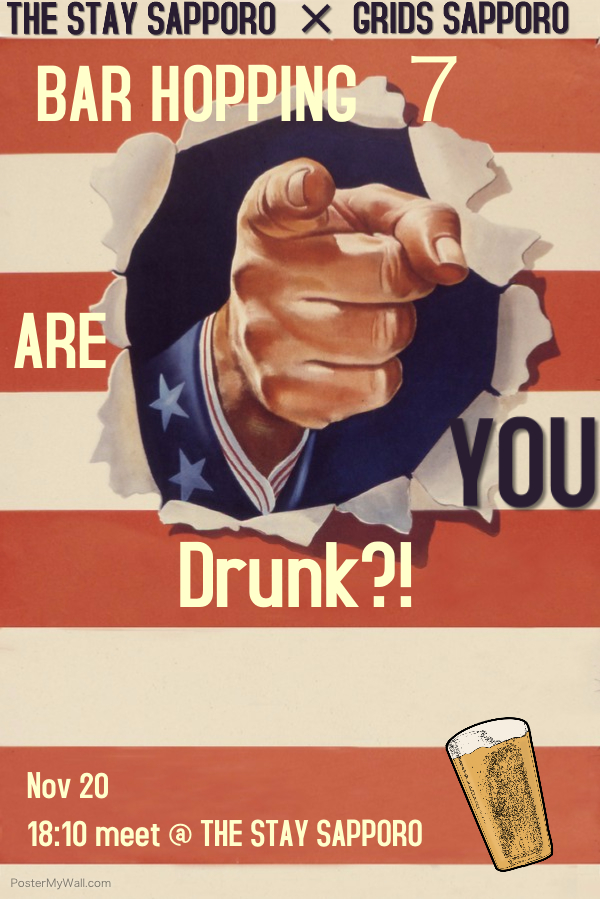 *最低催行人数があります。 人数に満たない場合は、中止になりますので、参加ご希望の方は"必ず事前に"ご連絡ください。(締め切り 前日20:00まで )*中止の場合は、当ページにて投稿します。
→本日開催中止になりました! 11月20日 THE STAY SAPPORO 
*また参加者が日本人の方のみになる場合もございます。ご了承ください。
-English below –
// THE STAY SAPPORO主催のバーホッピングイベントを行います!!!
どなたでも参加大歓迎で大人数で居酒屋からバーをハシゴするパーティーです!
当日は担当の日本人スタッフがいるので、
どんな人がいるんだろ〜っていう興味。
英語しゃべれないけどいいかな〜でも興味あるな〜っていう不安。
参加動機はなんでもいいんですっ
とりあえず足を運んでみてください(^ν^)♪
当日は日本人の方々のみならず、多国籍の方々が大勢集まるので、楽しいこと間違いなしです!!!

// スケジュール
・18:10 THE STAY SAPPORO 3F 集合
・19:00 居酒屋で飲み放題(3000円ぐらいで予定)
・21:00~ バーで飲み(カウンターでそれぞれご希望のドリンクを各自オーダーするシステムの場所にいく予定です)
//バーホッピングとは
このバーホッピングイベントのコンセプトは、"バー(または居酒屋)巡り"です。 参加者全員で最初の居酒屋へ行き、その後全員でバーをハシゴします。スタッフが誘導して、全員で居酒屋からバーに歩いて移動します。誰でも参加できるパーティーで、新しい人に出会ったり、友達と楽しんだり、札幌の夜を経験するのにとてもいい機会です。初めての参加であったり、もっと詳細を知りたいという方は、是非メッセージを送ってください!
ご了承いただきたいこと
*人数に制限がございます。
参加ご希望の方は必ず 前日22:00 までにメッセージで参加する旨を事前にお知らせ下さい!!
*当日の会場は一次会はすすきののどこかの居酒屋、どこかのバーに移動です。
→居酒屋は飲み放題を予定。バーはご注文はカウンターで飲み物をそれぞれ注文していただくシステムの場所にいく予定です。
//WASUUP EVERYONE
GUESS WHAT! WE ARE HOSTING A BAR and IZAKAYA HOPPING EVENT ON 20TH!!!! PSYCHEEEED!!
Look where you are now, JAPAN!!! We goin to the JAPANASE IZAKAYA first!!
Everyone is welcome to come along on this "bar izakaya hopping event" around Sapporo. We'll visit a IZAKAYA first and a bar later. It's easy to meet people, have a chat, and of course there will be plenty of drinking.
Please send us a message if you attend this event!!!
//SCHEDULE
・18:10 meet up at the stay 3rd floor
・19:00~21:00 drink at Izakaya(all you can drink. maybe 3000Yen something)
・21:00~ drink at an bar (pay for your drink)
Now you'll have the chance to truly see what the bar or IZAKAYA scene in Sapporo is all about, as well as meet new friends in fun, safe, and social environments.
SEE YOU EVERYONE ON 20th NIGHT!!
前回の様子はこちら!
2017年10月26日 BAR HOPPING 6
2017年11月10日