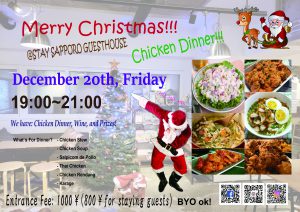 *English Below*
メリークリスマス!!!
今年のクリスマスは一緒にいい思い出を作りましょうか。
The Stay Sapporo はチッキンディナーイベントで色々な美味しいチッキン料理を作ります!
12月20日、19:00~21:00
参加料金:1000円/1人(Stayゲスト800円)BYO ok!
ラッキー人にプレゼントもありますよ。
皆さん来てね!一緒に楽しましょう!!!
Merry Christmas!!!
Hi Guys! We are having a Christmas Chicken Dinner this year at The Stay Sapporo Guesthouse.
December 20th, 19:00 ~ 21:00.
Fee: 1000yen/person (800yen for staying guest) BYO ok!
We also have presents for lucky draw winners.
So come by, and let`s make great memories here at The Stay Sapporo!!!
2019年11月26日