Good evening guys! It is Jessica writing today!
Yesterday in Sapporo it was all blue sky and sunshine and  it felt like spring had finally arrived. Over the last week the snow in the city has really started to disappear, finally making it a little easier to bicycle  around the city (also walk and not sink in slushy snow!)
To celebrate I went skateboarding through Hokkaido university.
But today it started snowing, the city falling to negative temperatures yet again. It was actually soft fluffy powder snow!
Yesterday skateboard. Today snowboard?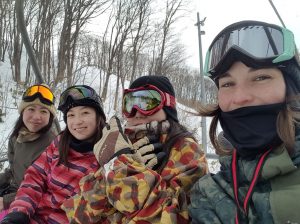 Spring in Sapporo this is a possibility.
Since it is still snowing I thought I would introduce a ski resort where you can enjoy some cheap spring snowboarding at for just 1900 yen!
On Thursdays Onze Ski resort offers full day lift tickets for 1900 yen under a campaign called "SNS DAY."
If you upload an image of you at the resort to either Facebook、Twitter、Instagram or LINE and use the hashtag 「#オーンズ」and show the staff when you purchase your ticket you can get a discount.
The discounted price is as follows:
Adult: 1900
Child: 1400
Seniors/High school students: 1500
If Thursdays are no good for you Onze also has:
Mens day (Tuesdays):
Adult: 2100
Child: 1400
Seniors/High school students: 1500
Ladies day (Wednesdays):
Adult: 2100
Child: 1400
Seniors/High school students: 1500
(Also for ladies there the price includes a 500 yen cafe coupon!)
Additionally regular lift ticket prices have been discounted for spring – adults are now 3,200 yen every day of the week.
Onze is open until March 29th, so why not enjoy a little spring snowboarding or skiing?
2020年03月16日